EDIT
:Because some people are confused and not believing this, I will post some videos and the link to the AAFP journal where they say no heavy winter coats as well. NOT TO MENTION...just read your carseat manual, they say no bulky clothing is to be worn under the straps!!
http://babycare.manualsonline.com/manuals/mfg/graco/65.html?idRes=15507863 This is for the Graco MyRide 65 which I know is popular. It states:
Keep harness straps snug and positioned on shoulders with harness tie at armpit level
Do not use strap covers, cushion or padding under harness straps or child unless provided by Graco
Child should be dressed in clothing that does not interfere with buckling the harness
http://babycare.manualsonline.com/manuals/mfg/britax/boulevard.html?idRes=3531347 This is for the Britax Boulevard. It states:
Adjust harness to fit the clothes the child is wearing. Remove bulky coats and jackets before putting the child into the restraints.
http://www.aafp.org/afp/2002/0515/p2085.html
"

Bulky clothes (such as winter coats) create slack in the harness. They should not be worn under the harness straps. After the harness is secured, a blanket can cover the child." (taken straight from the website)
A video that shows the test I was referring to:
As summer starts to come to and end and cooler weather is on the horizon, it's time to
reiterate and important message:
Winter coats do NOT belong in a carseat!!!!
The reason being is that it doesn't allow the straps to properly hold your child in the seat. If you are in a wreck, the coat will compress leaving the loose straps and allow baby to slide right out. Have you ever seen the "Space Bag" demonstrations?
See how those PUFFY sweaters can be flattened? Well, THAT is what happens with a puffy coat worn in a carseat during a crash. The straps that could hold your child and their coat tightly before, cannot withstand the g-force of a crash and will NOT hold your child tightly during. I personally don't suggest allowing a child to wear any kind of coat in a carseat. They can wear normal weight clothing and placer the coat on backwards once strapped in, be covered by a blanket once strapped in or wear a carseat poncho or carseat cover.
First I want to show you some incorrect ways to keep warm in a carseat, then, I will post correct ways...
WRONG:
CORRECT:
This is fine as it doesn't go behind the baby only over. Bundle-Me's are dangerous.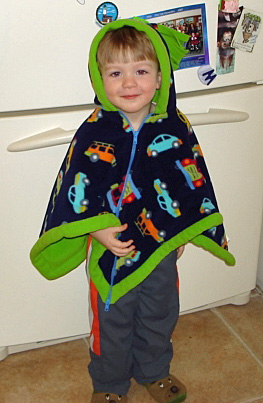 Ponchos lay over the whole seat and child, nothing between the child and the straps or the back of the carseat.
Now, if you feel confident that the jacket, blanket, cover you are using under the straps is perfectly safe. I want you to do the thickness test for me.
First, place child in the carseat fully dressed in jacket, blanket, snowsuit...whatever. Place them in it and adjust the straps accordingly.
Now, remove the child and the clothing, blanket, etc. DO NOT adjust the straps.
Place the child back in the carseat without all of the extras and buckle them in, DO NOT adjust the straps.
How loose are the straps? If you can place 2 or more fingers between the harness and the child's shoulder bone, the coat, blanket, snowsuit is WAY too bulky to use in the car.
More links to read about coats in the carseat:
http://thecarseatlady.blogspot.com/2011/01/coats-n-car-seats-are-not-safe-combo.html
http://www.angelsandurchins.co.uk/blog/2011/01/31/winter-coat-car-seat/
http://safekidswmass.blogspot.com/2011/01/bulky-winter-clothing-and-car-seats.html
http://pediatrics.about.com/od/safety/ig/First-Aid-and-Safety/Car-Seats-and-Winter-Coats.htm
I can't say it enough...please do not risk your childs life with anything between them and their carseat straps. That means no heavy coat, no Bundle-Me, no snowsuit, no blanket under them. Only things thrown over your correctly buckled in child.